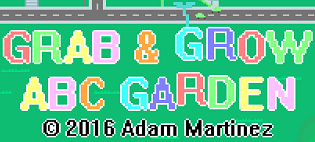 Grab & Grow ABC Garden
A downloadable game for Windows
This is the original version of the game (2016).
Download the new and improved version of the game at Word Bird Kids! (2017).
Feel free to reach out to me on Twitter@mart3318 with any questions or comments about the game. Thank you!
(Adam Martinez)
Download
Download
Grab & Grow ABC Garden.exe
15 MB
Comments
Log in with itch.io to leave a comment.
Why does this thing ask for administrator privileges?

Sorry, I just saw your comment now. I don't know. I was able to make this game using Game: Maker Studio without a programming background. I'd really prefer that's not the case with the game. I'll look into it now. Thank you.
Unfortunately, for anyone else curious about why this game may require administrator privileges, I won't be able to offer a technical explanation for this because I don't even know myself.
The best information I can share is that this game was made with GameMaker: Studio 1.4 and built for Windows.
Sorry for the inconvenience. Any other questions or comments, please reach out to me on Twitter @mart3318.
Thank you!
(Adam Martinez)